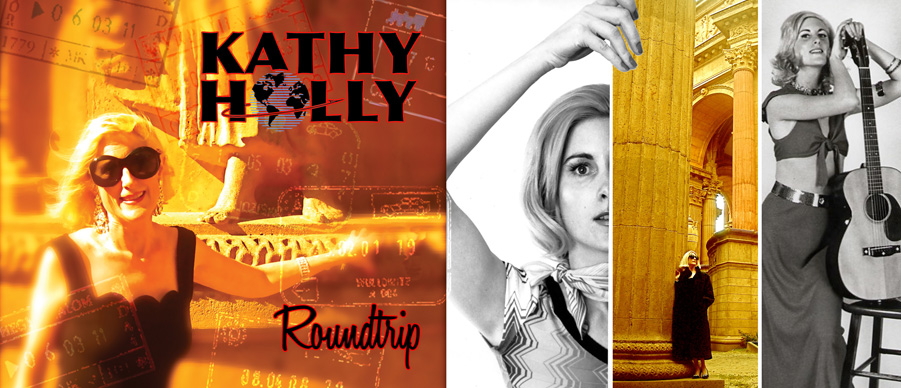 Recently Released

China: 31 Years Later

Kathy Holly's press release about China.

Kathy Holly "Roundtrip"

"This Can't Be Love"
- Rodgers & Hart

"A Man and A Woman"
- Francis Lai

"Mambo Italiano"
- Italian Folk Song

Past and Present Performances

Every Month Ongoing!
OPEN MIC FOR SINGERS AND FRIENDS!
The Italian American Social Club of San Francisco

Entertainment with Shota Osabe at the Piano and Kathy Holly, Hosts & A Variety of Singers. No Cover. Free Parking in Club Lot Across the Street! More Details

"SUPPER CLUB" SIX
Villa D'Este Restaurant

"Supper Club Six" is the First Monday of every month at the Villa D'Este Restaurant. More Details

Kathy Holly, Host and Producer, interviews "Foodies The Musical" Director, Morrie Bobrow, Stage Manager Jim McCunn, and actors Kim Larsen and David Goodwin on her Pacific Coast TV's "Spotlight" show. Various Performing Artists are on her monthly TV show.

Welcome to our site!

SF native Kathy Holly is head of the old-school class

"Perhaps the most coveted classification in all of San Francisco isn't "successful tech CEO" or even "real estate owner," but rather "tried-and-true native." After all, our breezy climate, stunning scenery and booming economy help make the Bay Area a region where many want to flock, which means it has become filled with mostly grateful transplants. Thus, a legit born-and-bred San Franciscan is rare indeed. But every once in awhile, a local can stumble upon a native so old-school San Francisco that it reinvigorates one's faith in this fair city. Kathy Holly is one of those natives."

NEW! Kickstarter Campaign
" The Disappearing Piano Bar"

A documentary about the Disappearing Old Fashioned Piano Bar and a focus on bringing them back for future generations.

Kathy Holly is a native San Franciscan, vocalist, musician, bandleader, actress, voice-over artist and teacher.

Kathy began singing and acting at the early age of 6, when she had the lead role in the play Little Boy Blue (it was an all girls school!) From then on she had the "show biz" passion and produced and directed her own variety shows for the family, casting her young cousins in roles.

Kathy is an expert at helping to make your event come alive with music and personality.